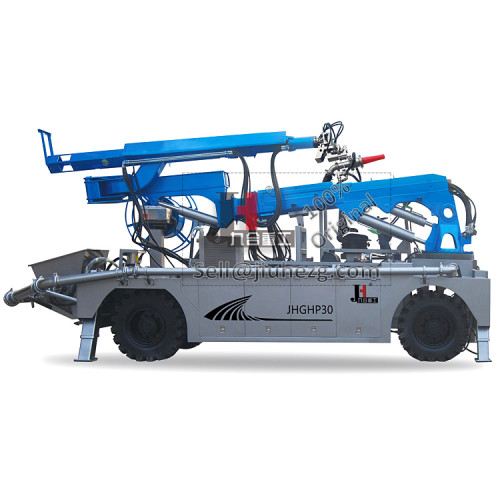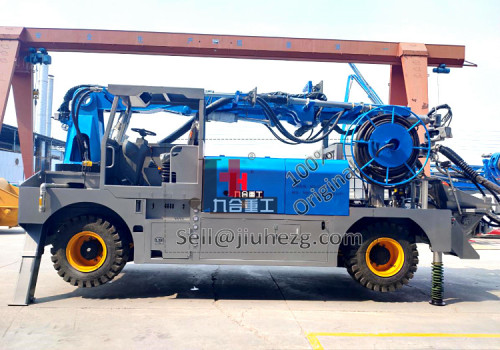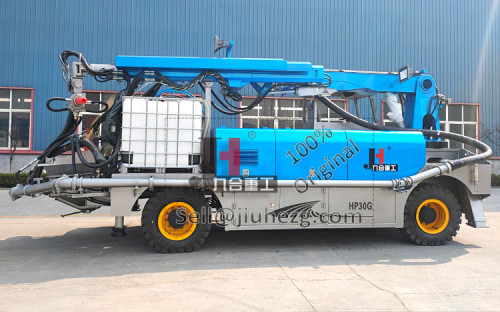 Wet shotcrete machine| JIUHE HP30G| sale for tunnel construction| china manufacturer
Item specifics
Max. theoretic delivery volume

30m3/h
Spraying height

16m
Chassis

JIUHE Produced Engineering chassis
Chassis power

93kw
Electromotor

75kw
Concrete cylinder

180mm
Max.aggregate size

25mm
Boom pipe before telescopic boom

steel, dia. 100mm
Telescopic boom

rubber hose, dia. 80mm
Mai oil cylinder

100mm
Accelerator agent pump

Screw type
Accelerator agent bucket

1m3
Emergency system

close and clean machine
Application

Tunnel construction
Function

Spary wet concrete
Description
China Factory Direct Supply JIUHE Brand HP30G Wet shotcrete machine For Sale

As a new generation JIUHE produced upgrading engineering chassis wet shotcrete machine, which is researched and developed after synthesizing wet shotcrete machine technology domestic and oversea, solving spraying deficiency that traditional small shotcrete machine cannot meet concrete spraying need in long and big tunnel, vastly improving the working environment for workers inside tunnel, increasing working efficiency, reducing concrete consumption, truly ensuring working quality, double power working system, lower carbon emission, Suiting environmental protection concept. JIUHE engineering chassis wet shotcrete machine is best choice for tunnel construction like water conservancy and hydropower, railway, highway and so on.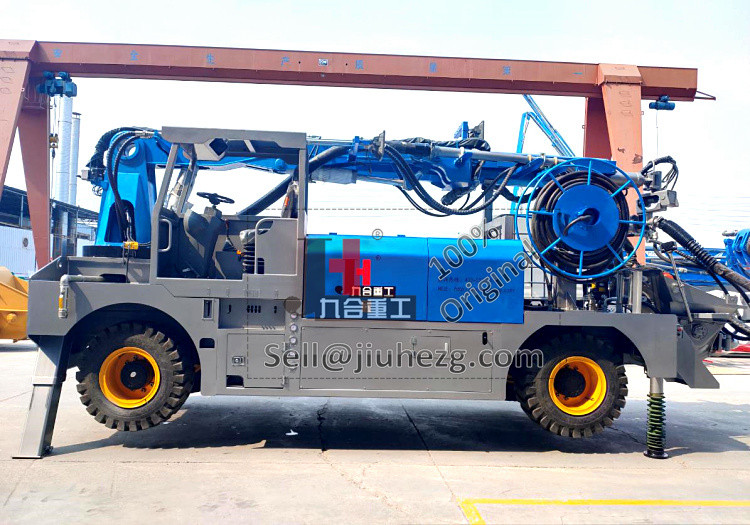 1. big delivery capacity, big diameter concrete cylinder, long route spraying pump, high reliability and good adaptability.
2. strong mobility, convenient transferring, concern several jobsites.
3. motor system, strong adaptability, high reliability.
4. Mechanical arm flexible actions, large working area, no working blind zone.
5. Accelerator dosage and concrete volume can be matched automatically to reduce accelerator consumption.
6. Highly cost effective, durable machine, easy maintenance, easy to buy parts.
China Professional Manufacturer JIUHE Brand Profile
JIUHE is professional manufacturer in China for wet shotcrete machine for tunnel construction, we are factory directly supply, both quality and service can be ensured.

JIUHE Main Products:

Trailer concrete pump,
concrete line pump,
concrete pump truck,
concrete placing boom,
wet shotcrete machine,
ladder lift truck,
Aerial lift truck and so on.

1.whole machine data

Model

HP30G

total length

7800mm

total width

2480mm

total height

3240mm

rated weight

20T

2. Boom & support legs data

spraying height

16m (15m machine height)

spraying width

24m (23.2 machine width)

big boom pitching angle

0-70°

small boom pitching angle

+20°-110°

boom rotation angle

360°

spray-head swing angle

360°

3. pumping system data

driving mode

Motor

Motor rated power

75kw

Motor working voltage

380V

concrete delivery capacity

30m³/h

hydraulic system

Open

delivery pipe dia.

Φ125~φ80mm reducing

spray nozzle dia.

Φ50mm